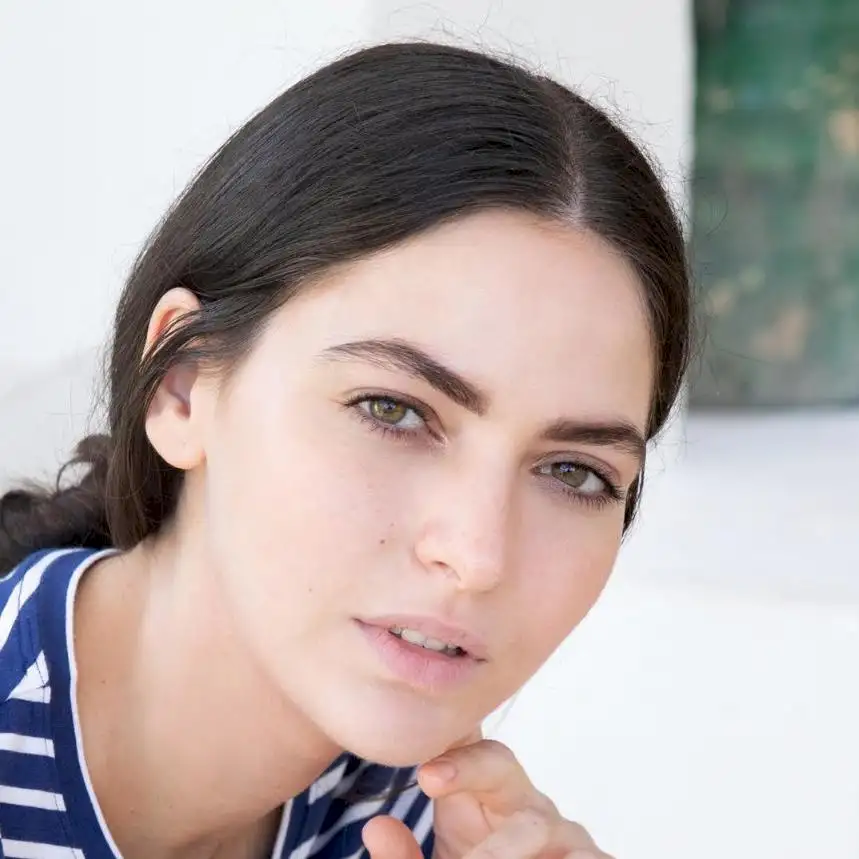 Written by Benedetta Canale
modified 13 July 2023
6 min. read
---
Learn how to move with ease in Puglia's "Baroque Lady" with the locals' best tips.
Lecce is the main urban center of Salento, with the second-highest population in the Apulia region. The town is nicknamed "The Florence of the South" because of its rich Baroque architecture, achieved by the use of the typical limestone.
From Lecce you'll be a short distance from the most heavenly beaches and little towns of Salento while enjoying the most harmonious urban landscape.
Walking around Lecce will leave you in awe, from the ancient "Porte", the historic gates of the city, to the baroque balconies and the stunning churches, Lecce is a town to wander with upturned eyes. In the late afternoon, many of these facades turn pink in the sunset offering an even more fascinating spectacle.
Lecce can also boast two Roman theatres, the Teatro Romano and the amphitheater (2nd century AD). Only a small portion of the Roman Amphitheatre remains today but in ancient times, this venue could accommodate up to 25,000 people. Adjacent to the amphitheater, you'll find the column of St. Oronzo, the town's patron saint, built to mark the end of the Appian Way, an ancient road that linked Rome with southern Italy. 
The patron saints in Puglia are religiously worshiped and each of them is celebrated with a spectacular feast. Days of rites, fireworks, marching bands and the marvelous "luminarie", light installations of enormous dimensions that are rewarding on their own.  In Lecce this happens from the 24th to the 26th of August.
Having some of the most stunning monuments and attractions of Puglia, Lecce is a perfect destination all year round, winter and summer alike. 
In Lecce you may not find Focaccia Barese but luckily you can comfort yourself with Pasticciotti, Pucce, Friselle, Pizzi, Ciceri e Tria, Cotognata, outstanding cocktails and much more. 
We selected the locals' favorites for you: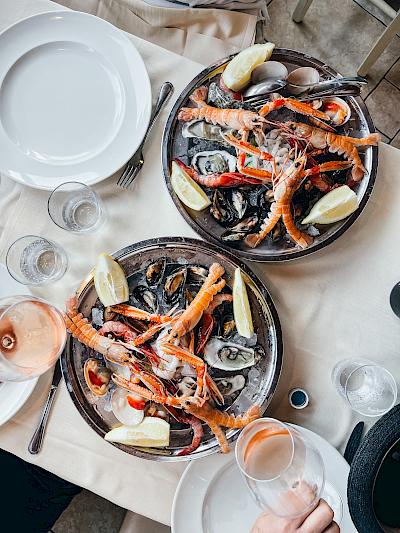 Trattoria Le zie - historic trattoria
Every local's place of the heart, at Le Zie you'll feel like eating at an Italian nonna's house. The typical dishes in the menu include Taiedda (rice, mussels and potatoes), horse meat rolls (yes, it is very typical to eat horse meat in Puglia and considered very healthy), Pittole (savory fried dough, your next addiction) and Ciceri E Tria (pasta and chickpeas). No website, no Instragram, which means the perfect hided place!
Lul - good food & natural wines
With an exclusive view on Porta Napoli this restaurant offers an incredible selection of natural wines in a lovely atmosphere curated in the smallest details. Perfect for an outdoor aperitif or a cozy dinner inside.  
Quanto Basta - cocktail bar
In Lecce you'll find many cocktail bars but none of them can challenge the class, expertise and bustling energy of Diego, Andrea and their Quanto Basta family. Their cocktail bar is amongst the 500 best bars in the world and amongst the 10 best bars in Europe. Their signature cocktails are a must try. 
Patria Palace Hotel- rooftop restaurant 
If you want to have a closer look at the outstanding details of the Basilica di Santa Croce, an aperitif on the rooftop of Patria Palace Hotel could be the best compromise. This 5 star hotel  boasts unbelievable views on Lecce and its most stunning example of Baroque. 
Santavoglia - contemporary cuisine 
Tradition and innovation here blend harmoniously under the watchful eye of the young chefs. All the staff is young and surprising in the professionalism of the service. The location is wonderful and eye for detail.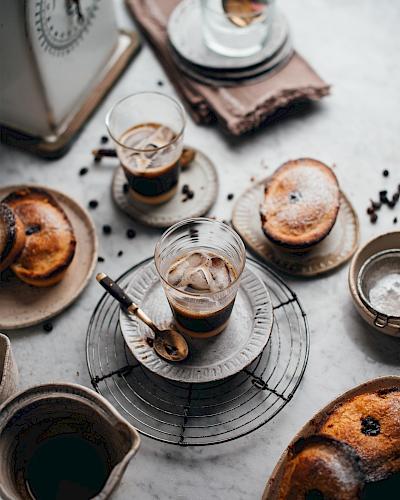 Caffè Alvino - historical café  
In the heart of the center, with a breathtaking view of Piazza S.Oronzo, Caffè Alvino has always been the meeting point of the Leccese. Standing at the counter sipping on an espressino (espresso, whipped cream and a dash of cocoa, in its cold or hot versions) or sitting outside with a caffè Leccese (coffee with ice and almond milk) and a rustico, now you know how to blend in. 
Pasticceria Natale - historical pastry shop
If Pasticciotti had a cult this would be their chapel. This bakery is known for having the best pasticciotti in town but that's not the only thing you can take back home. You can in fact find santini, holy pictures, dedicated to "Santo Pasticciotto, patron on Salento".
La Fornarina Pasticceria - typical pastry shop 
This bakery and pastry shop is considered to have the best rustici leccesi (puff pastry filled with béchamel, mozzarella and tomato) and it's a real locals' favorite. Don't miss to try one of their beignets shaped like swans, a true gem. 
Lu Furnu Te Petra- stone oven bakery
This is the only stone oven bakery in all of Lecce and the perfect spot to buy the famous friselle, typical dry bread that is soaked in cold salted water (sponzatura) before being dressed with tomatoes, salt, oregano and olive oil. The friselle were originally meant for fishermen who soaked them in seawater: remaining at sea for days they needed a bread that would last long.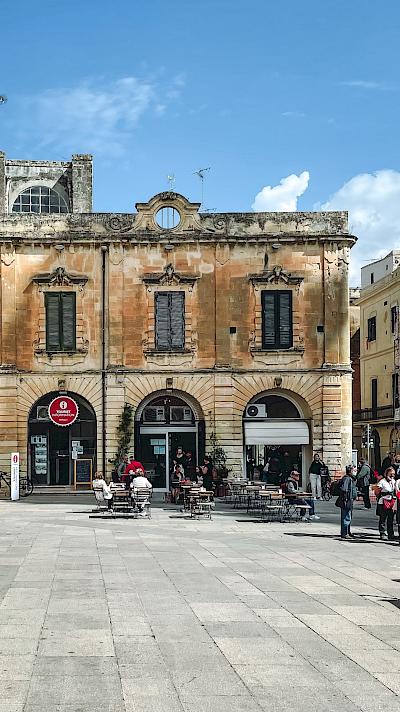 Baldo gelato - ice cream
Modern artisanal gelateria in the city center, with a vast choice of flavors, from the most classics to more experimental ones. King of all, their Pistacchio Verde di Bronte DOP. 
For the meat lovers, this is your occasion to eat in a typical Pugliese fornello (butcher that turns into a restaurant at night) in Lecce. Bombette, salsicce, turcinieddri, traditionally cooked on skewers directly on the fire. 
If you crave some outstanding fish then this is your place. Hidden from the main street and behind an old church, this restaurant serves fresh catched fish directly from Mario's boat. A typical osteria di mare with an elegant twist. 
Shop
Vico dei Bolognesi - concept store - fashion & home decor
Markets
mercato coldiretti - farmers market - every Sunday morning at Piazzetta Bottazzi
Mercato antiquariato - antiques market - every last Sunday of the month in via XX Settembre
Mercato Porta Rudiae - covered market - every day 
Do you also want to discover Puglia? Have a look at our holiday villas in Puglia here.
---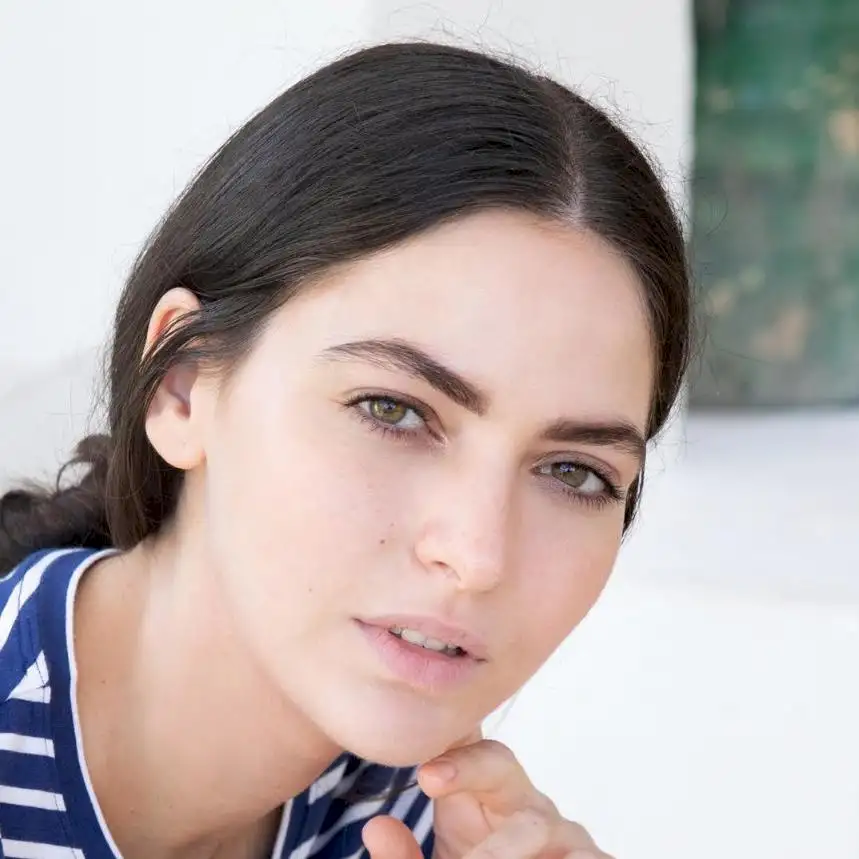 Benedetta Canale
I'm an art director, foodie and life enthusiast from Rome with Umbrian roots. I lived in Florence to study arts, and in Puglia to work in hospitality, kitchen and events. Food is my religion and I love to share my favorite places because food always tastes better when shared.